O  V  E  R  V  I  E  W
Thorncrest Village is one of Toronto's most exclusive neighbourhoods with just over two hundred homeowners. It is also one of Toronto's prettier neighbourhoods with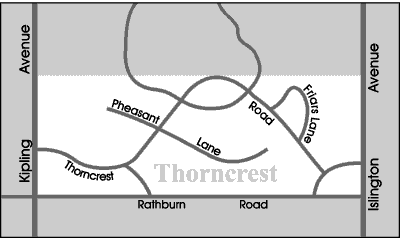 winding tree-lined roads that are whimsically decorated with cast-iron street lamps and wood post signs that combine to create a countrified charm.
It is interesting to note that all of the streets in Thorncrest Village have an east-west orientation. This was planned intentionally so that all of the houses in this neighbourhood would benefit from a direct south exposure.
H  O  M  E  S
Thorncrest's sweeping, tree-lined streets and expansive lots provide an idyllic backdrop for its varied collection of houses. The original Thorncrest houses include ranch-style bungalows and modernist-style homes from the late 1940's and the 1950's. These houses are gradually being replaced by larger brick and stone executive-style houses.
Thorncrest Village houses are subject to three site-specific zoning by-laws that are the legacy of a former building covenant which was deeded to every Thorncrest property owner. Detailed information on these bylaws can be obtained by phoning the City of Toronto's Etobicoke planning office.
S  H  O  P  P  I  N  G
The immediate shopping needs of the residents of this neighbourhood are well served by the Thorncrest Plaza located on the north-west corner of Islington Avenue and Rathburn Road. This small shopping plaza includes a supermarket, bank, barber shop, coffee shop, hardware store, drug store, framing shop, dry cleaner, tailor, wine shop and a couple of professional offices.
Thorncrest residents are less than five minutes by car from the upscale Humbertown Shopping Centre located on The Kingsway, as well as the Kingsway Village and Bloor West Village shopping districts, situated along Bloor Street West.
R  E  C  R  E  A  T  I  O  N
The Thorncrest Homeowners Association is the only homeowners association in Toronto that owns and operates its own clubhouse and recreational facilities. The Thorncrest clubhouse, located at 35 Thorncrest Road, hosts many neighbourhood social events including family barbecues, bridge, theme dinners and a children's christmas show. There is also a family "Fun Day" that coincides with a pool opening party. This annual event features pony rides, a bake sale, carnival food, a clown and games.
The Thorncrest community facilities include a 25 metre outdoor swimming pool which is a popular cooling-off spot in the summertime. Swim lessons from qualified instructors are offered at this site. The Thorncrest Homeowners Association also operates two tennis courts and a children's playground that are adjacent to the clubhouse and pool. The tennis courts are busy all summer with lessons, clinics, leagues, round robins and spring and fall tournaments.
S  C  H  O  O  L  S
(P) Rosethorn, 2 Remington Dr., (416) 394-6360
(P) St. George's, 70 Princess Anne Cres., (416) 394-7990
(P) Humber Valley Village, 65 Hartfield Rd., (416) 394-7860
(PH) Richview C.I., 1738 Islington Ave., (416) 394-7980
(CA) St. Gregory, 126 Rathburn Rd., (416) 393-5262
T  R  A  N  S  P  O  R  T  A  T  I  O  N
The bus service along Islington Avenue connects passengers to the Islington station on the Bloor-Danforth subway line. Islington station also provides express bus service to the airport as well as being a connecting route to the Mississauga Transit system.
Motorists are twenty minutes from downtown Toronto via Bloor Street and ten minutes from the Highway 401 on-ramp off Islington Avenue.